Proudly presented by mygrassisblue.com
The Truffle Valley Boys 🇬🇧 May 2023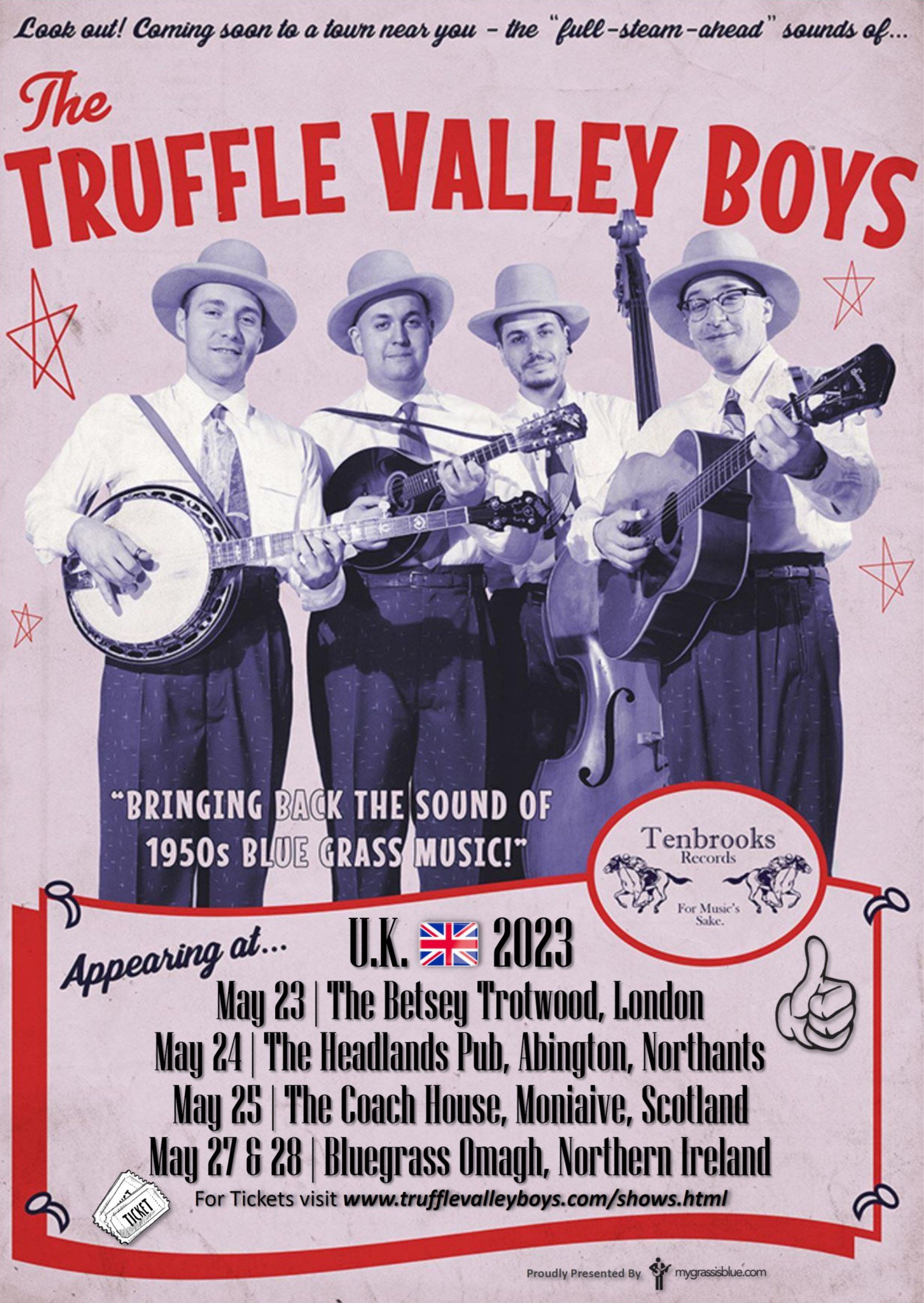 THE real deal. Old-school, hard-core bluegrass music. Done right.
By "Bringing back the sound of authentic 1950's blue grass music since 2014", The Truffle Valley Boys have carved out a niche for themselves as the premier proponents of the raw, old-school bluegrass sound in Europe. 🇪🇺
This is an Italian quartet that perform authentic bluegrass in the most uncompromising way, around a single microphone using period instrumentation and with the utmost attention to musical and aesthetic detail – just think a 1954 Starday Custom blue grass single and you get a pretty faithful idea of what the Truffle Valley Boys sound like.
No strangers to the road, they clock thousands of kilometres each year placing themselves at the forefront of the bluegrass music scene in Europe. Headlining major festivals and events, their unique live performances have won them unanimous approval all over the continent while their recordings have received worldwide airplay and enthusiastic reviews in publications such as Bluegrass Unlimited and Bluegrass Today. Oh, and they also feature as part of a permanent exhibition at the shrine to the genre, the Bluegrass Music Hall of Fame & Museum in Owensboro, Kentucky.
A Truffle Valley Boys show is a real throwback to a bygone era, their music a tribute to the genuine, raw and powerful sounds of the more obscure regional bluegrass acts of the 1950s. Yes, it's full steam ahead with a fiery drive and a healthy dose of good-natured entertainment, and we're proud to be associated with presenting the U.K. portion of their spring 2023 tour. Performance dates are limited to catch them while you can.
SCHEDULE & TICKETS
TUE, MAY 23 | The Betsey Trotwood, London, England (guests of Foghorn Leghorn) | TICKETS
WED, MAY 24 | The Headland pub, Abingdon, Northamptonshire | TICKETS
THUR, MAY 25 | The Coach House, Moniaive, Scotland | TICKETS
SAT & SUN, MAY 27 & 28 | Bluegrass Omagh 2023, Ulster American Folk Park, Northern Ireland | TICKETS
Listen up, y'all! We go "full-steam-ahead" in …
THE TRUFFLE VALLEY BOYS ELSEWHERE
trufflevalleyboys.com
You can catch up with The Truffle Valley Boys by visiting their official website where you'll find all the usual goodies (bios, performance schedule, pictures, videos, links to social channels etc.). Just tell 'em that mygrassisblue.com sent ya!