New Monday Band, The Station Inn, Nashville, TN.
Part of the mygrassisblue.com #BluegrassTrails series, on the trail of bluegrass history and its pioneers/early protagonists.
Nashville Elsewhere | Quick Links
The Station Inn is a music listening room in The Gulch area of Nashville. Here you can find the world's best bluegrass, classic country, Americana and roots music seven nights a week. All are welcome, every day. Good food. Great music. All Nashville.
– www.stationinn.com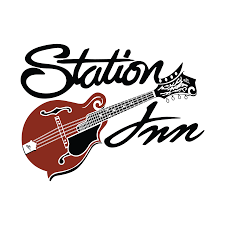 I
t is small. It is simple. It is unassuming, both inside and out. But the dark and intimate listening room that is Nashville's
Station Inn
is
the
Music City bluegrass mecca (it's also a roots and Americana music venue). Located in the trendy and hip Gulch, the city district originally home to the downtown railroad terminal and somewhere that wasn't always hip nor trendy, this first-come, first-served, cash-on-the-door-only venue has been 'Forever Bluegrass' since its opening in 1974. Legends have performed here. Ground-breaking and award-winning bands have been formed through relationships forged here. And for artists, many of whom view it as
the nation's hub of live bluegrass music
, it's both a career highlight and an honour to perform here.
Although The Station Inn has been Nashville's go-to venue for the best of bluegrass picking since 1974, it only moved to its present home at 402 12th Avenue South in The Gulch in 1978; before that it occupied a coffee shop-setting near the city's Centennial Park and Vanderbilt University and thus was a popular venue with students garnering an interest in bluegrass. The entertainment in the early days was mostly provided by the owners, a group of six bluegrass pickers and singers — Red Smith, Bird Lee Smith, Jim Bornstein, Bob Fowler (with wife Ingrid), Charmaine Lanham and Marty Lanham — who by opening the venue realised their ambition of creating a city space for getting together to jam (former Kentucky Colonel and Blue Grass Boy Roland White was also a part of the original Station Inn family, not to mention a great supporter over the years).
The present spit-and-sawdust
Station Inn
venue was purchased in 1981 by Earl "J.T." Gray, who regularly sat in with the founding
Station Inn
ensemble. A native of Corinth, Mississippi, Gray moved to Nashville in 1971 to perform with the Misty Mountain Boys (other gigs included dates with Vassar Clements, the Sullivan Family, and Tom T. Hall). In 1979 he joined Jimmy Martin's Sunny Mountain Boys on bass. When that gig ended in 1981 he bought
The Station Inn
citing the …
… opportunity to have something of my own, and a way to be more into bluegrass music without having to be out on the road all the time.
– Station Inn owner J.T. Gray on his 1981 purchase of The Gulch venue.
Today the venerated and internationally renowned venue, whose small stage has hosted a who's who of bluegrass pickers down through the years, still keeps it real, hosting the best of the genre while also affording opportunities for up-and-coming acts to showcase their talents, and all of which is broadcast online to audiences around the world via the venue's very own 'Live and On Demand' streaming subscription service, Station Inn TV. The venue goes from strength to strength and in recognition of his efforts to promote the genre and preserve its legacy, in 2020 J.T. Gray was inducted into the IBMA Hall of Fame, this following on from the IBMA Distinguished Achievement Award bestowed upon him and the venue back in 2003.
The success of the Station Inn is due to J.T.'s passion for bluegrass music, his relentless perseverance through the lean years, and his unwavering support of bluegrass musicians.
– IBMA tipping their cap to J.T. Gray for his contribution to the bluegrass community on the occasion of his induction into the Bluegrass Hall of Fame, September 2020.
New Monday Band A
mong the
The Station Inn
's ever-changing musical landscape, there is a constant (aside from top-drawer acoustic and roots music) – the so-called
New Monday Band
, the closest thing the Station Inn has to a house band. The inimitable trio of
Val Storey
, Grammy Award-winning producer-songwriter-artist
Carl Jackson
, and revered singer-songwriter
Larry Cordle
 ably cobble together an all-star cast of pickers to bring their predominately Classic Country sound to the Inn stage most Monday evenings. On this particular Monday evening, the New Monday ensemble featured
Aubrey Haynie
on fiddle,
Mike Bub
on bass,
Larry Atamauak
on drums/percussion,
Doug Jernigan
on pedal steel and dobro, and
Chris Walters
on keyboard. It was a fun night.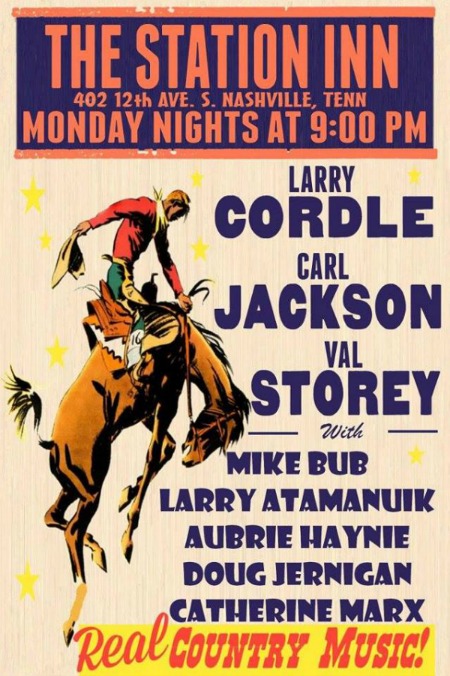 NPT (Nashville Public Television) (5 minutes 5 seconds, The Station Inn featured for the first 2 minutes 30 seconds) | A portion of this 2012 You Ought To Know Nashville NPT video introduces The Station Inn, including a chat with owner J.T. Gray who gives insights into the history of the venue, its unique decor, and the bluegrass behemoths who have graced its stage over the years.
Alan Jackson 'Blacktop' (3 minutes 34 seconds) | Country juggernaut Alan Jackson cut a bluegrass album, 2013's ingeniously titled The Bluegrass Album. Honestly. It's worth a listen (honestly), if only to hear one of the most decorated pure ( = real, not Nashville pop crap) country artists of the last few decades try his hand at (writing and singing) bluegrass. The album launch party was held in a sold-out, packed to the rafters Station Inn on August 27 of 2013, footage from which (inside and out) was used for the video of the Jackson-penned single release from the album, 'Blacktop', one of two music videos recorded for the album ('Blue Ridge Mountain Song', featuring Jackson's daughter, Ali, as the lead role, was the other). As you might imagine, there's an abundance of Station Inn amateur footage on YouTube, but not a whole lot of professional footage. That's why we like this video, that and the fact that it includes the likes of Ronnie Bowman and Don Rigsby (harmony vocals), Tim Crouch (fiddle), Tim Dishman (bass), Rob Ickes (dobro), Sammy Shelor (banjo), and Adam Steffey (mandolin), the all-star ensemble Jackson wisely took into the studio to help him cut the album (and to help him promote it thereafter). Whether or not you agree Jackson pulled it (a bluegrass album) off, he certainty put his best bluegrass foot forward with his choice of supporting posse, not to mention his choice of venue from which to release it to the bluegrass world.
The launch party was covered in this August 2013 Bluegrass Today article by John Curtis Goad. It's well worth a read.
Alan Jackson The Bluegrass Album launch party | 'Blue Moon of Kentucky' (5 minutes 17 seconds) | Here's some of that aforementioned amateur footage from The Station Inn, and from the same event too, with MC Eddie Stubbs soliciting from Jackson the reason for choosing the venue for his album launch party. Jackson then closes out the event, as he does the album, with a rendition of Bill Monroe's 'Blue Moon of Kentucky' in which he requests the crowd to sing along, something he does not do on the album (he instead thanks all the pickers who help him out on the project).
The Station Inn
|
https://www.stationinn.com/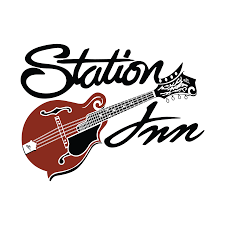 The Station Inn
's own home on the internet received something of a revamp to facilitate the launch of its online live streaming subscription offering,
Station Inn TV
. Check out the site to sign up (they broadcast, on average, 10-20 shows per month), to see who has played the Inn, who's scheduled to play, and a whole lot more besides (
The Station Inn
merch, history, venue rental info etc.).
Live bluegrass, roots and Americana from the world's most famous bluegrass stage to your living room. Multiple high definition cameras, high quality audio production, and unlimited on demand viewing for more than 600 hours of prerecorded shows. Plus all access to 3-5 live shows per week.
– The Station Inn commenting on Station Inn TV
Nashville Elsewhere | Quick Links