Part of the mygrassisblue.com #BluegrassTrails series, on the trail of bluegrass history and its pioneers/early protagonists.
We had a bit of ground to cover on this particular road-trippin' day in getting from Lewisburg, West Virginia, to Lexington, Kentucky. At its most direct it's a 300 mile drive via Interstate 64. But where's the fun in that? We tacked on another 100-plus miles by going our own way through the heart of rural eastern Kentucky, the Bluegrass State, and via the towns of Cordell & Sandy Hook, two sleepy settlements that to visit at all would require either a serious navigational oversight or a really good reason. We had the latter. We were on a recce for Ricky (and Keith). And as a bonus en route we got to drive a portion of Kentucky's 144-mile-long (232 kilometre) Country Music Highway. How fitting.
The Country Music Highway is Eastern Kentucky's heritage route. The sites and sounds along the byway capture all aspects of the region's history, including Native American culture, pioneer settlement, coal mining, country music, crafts, architecture, the Civil War, and natural resources.
– www.fhwa.dot.gov commenting on the Country Music Highway
Ricky Skaggs & Keith Whitley
Rural Kentucky is home to many a country and bluegrass music heavy-hitter, two of which – one dead, one very much alive – were of particular interest to us on this day. #RickySkaggs was born on July 18, 1954, a year before Keith Whitley's birth on July 1, 1955. These 2 eastern #KY teenage prodigies fast became musical soulmates after a chance meeting at a regional talent show in 1970. #bluegrasshistory . Both were enthralled by the music of the Stanley Brothers, a group that would ultimately launch their professional musical careers – they both joined on as full-time members of Ralph Stanley & The Clinch Mountain Boys upon graduation from high school in the spring of 1971.
Thereafter their career paths were very different – Skaggs would go on to be a major star in both country and bluegrass worlds (veteran producer Chet Atkins was famously said to have credited Skaggs with single-handedly saving country music in the early to mid-1980s) while Whitley, who established himself as a lead singer in bluegrass with The Clinch Mountain Boys before enjoying Billboard country chart success throughout the 1980s, tragically died of alcohol poisoning in 1989 at the age of 33 in what was one of the biggest losses to befall country music.
We ended up in the boys' locker room with our instrument cases. We started playing right then. It was instantaneous love. We had a lot of great years together playing for Ralph Stanley. I was proud of what he was able to accomplish in such a short time in Nashville.
– Ricky Skaggs commenting on his close bond with fellow Kentuckian Keith Whitley as young teens who bonded over their love of Ralph Stanley and the Clinch Mountain Boys (source tennessean.com)
In Search of Ricky (Skaggs) and Keith (Whitley)
We went searching for signs of these two musical local boys done good in two eastern Kentucky towns that you'd probably otherwise have no reason to visit. First up was Cordell, a 50-mile drive from the Ohio/Kentucky state line at Ashville, Whitley's birthplace (he grew up in nearby Sandy Hook). There was not a whole lot to see en route (this extreme eastern region of the state doesn't have the rolling karst hills of picture-postcard central and western Kentucky) and as it turned out there was even less to see once we got there.
We've been and gone but we're still not sure where Cordell Kentucky is, assuming it's there at all (it is referenced on maps). Among the three lines of text given over to it on Wikipedia, Cordell is described as an 'unincorporated community' (frankly I'm surprised a Wikipedia entry on Cordell even exists). We saw no signs of life while searching for a main street, a square/plaza, a community centre. Anything signifying a settlement. There was nothing. The only sign of community we found was the Free Will Baptist Church facing Bushy Creek and lining Bushy Creek Road, a road we accessed from Kentucky Route 32 and a road that seems to serve no purpose other than to take lost explorers even deeper into rural way-off-the-beaten-track Kentucky. Suffice it to say, there were no signs or reference to local boy done good and general musical prodigy Ricky Skaggs – the aforementioned Wikipedia page does make reference to Cordell's favourite son by informing that 'Country singer Ricky Skaggs was born in Cordell.' We came away from this region of rural Kentucky empty-handed. Thankfully nearby Sandy Hook divulged more.
Ricky Skaggs IBMA Hall of Fame Bio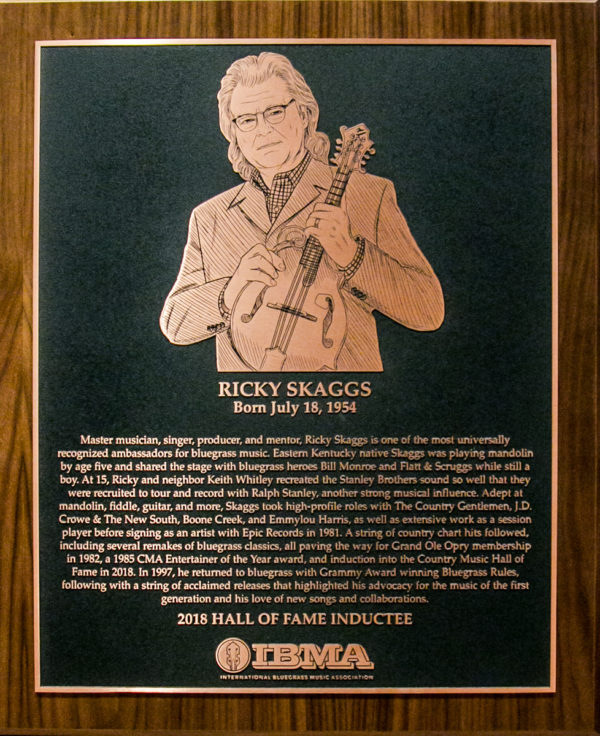 IBMA Hall of Fame Induction
|
2018
Born
|
July 18, 1954 in Louisa, Kentucky
Primary Instrument
|
Mandolin
R

icky Skaggs
has led a storied life in music that included childhood guest appearances with Bill Monroe, Flatt and Scruggs, and the Stanley Brothers; apprenticeships with Ralph Stanley and the Country Gentlemen; spots in classic configurations of bands headed by J.D. Crowe and Emmylou Harris; status as a mainstream country music star and finally as a headliner/elder statesman for bluegrass. He was born into a musical family on July 18, 1954, in Louisa, Kentucky. His father, Hobert, played guitar and was a fan of bluegrass while his mother, Dorothy, enjoyed singing and composing songs. Mrs. Skaggs would oftentimes sing while doing chores around the house and Ricky, starting at age three, would sing harmony. Church provided another forum for hearing and singing music. In the winter of 1959, Ricky received a mandolin as a gift from his father, who showed him his first three chords. Soon the pair was making music together and this evolved into a Skaggs Family band with appearances on WTCR radio in nearby Ashland, Kentucky. Highlights from this era included a 1961 band guest appearance on Ernest Tubb's Midnight Jamboree in Nashville and solo spots by Ricky with Bill Monroe (1960), Flatt and Scruggs (1962) and his idols the Stanley Brothers (1963 and 1964). By the middle 1960s, the British invasion had begun and even Ricky Skaggs in rural eastern Kentucky was not immune to its influence; for a time he flirted with electric guitar. But other changes were taking place. The family moved to Columbus, Ohio, where Hobert and Ricky, although underage, frequented the Astro Inn to see Earl Taylor perform. It was also during this period that Ricky began a several-year fascination with the fiddle. Probably the biggest and most long-lasting event from this period was his acceptance, at age thirteen, of Jesus Christ as his savior. In the early part of 1969, the Skaggs family moved back to eastern Kentucky. There a bevy of old-time musicians continued to inform young Ricky's musical tastes. A chance appearance at a 1970 talent show charted his destiny. It was there he met his musical soulmate: Keith Whitley, a young guitarist and singer who, like Ricky, was enthralled by the music of the Stanley Brothers. Keith and Ricky formed a group known as the Lonesome Mountain Boys. They secured a spot on radio station WGOH in Grayson, Kentucky. A short time later, they were discovered by Ralph Stanley when the duo was performing on stage to fill time for Stanley's late arrival at a concert. In short order, they were making select appearances with Stanley and, upon graduation from high school in the spring of 1971, signed on full-time. In their first year with Stanley, Keith and Ricky participated in several recording sessions, including the landmark album Cry From the Cross. Reviewer Walt Saunders noted in Bluegrass Unlimited, "Anyone who has seen these kids performing with Ralph knows what hair-raising sounds they are capable of, especially on the older Stanley songs." The duo, along with their fathers, helped to construct the stage at Ralph's annual Memorial Day bluegrass festival. The pair also recorded two albums of their own: Tribute to the Stanley Brothers and Second Generation Bluegrass.
He carried the ancient sounds from God knows where. Ralph [Stanley] found it in the music of the mountains, in the hollows, in the people and in the churches. He was my hero and I was blessed to know him, love him and make music with him as a young teenager. The Scriptures tell us 'God uses the simple things to confound the wise.' He certainly used Ralph Stanley to bring the music of the mountains to the masses.
Quoted in "Ricky Skaggs Reacts to the Death of His 'Hero' Ralph Stanley," countryrebel.com, accessed August 18, 2018
After two and a half years with Ralph Stanley, Ricky relocated to the Virginia suburbs of Washington, D.C. His dalliance with a forty-hour-a-week non-musical job at Virginia Electric and Power Company was cut short when an offer came to join the Country Gentlemen on fiddle. In short order, he was in the studio with them recording an album for Vanguard. Proximity to the vibrant Washington bluegrass scene landed him numerous opportunities for session work, including the Seldom Scene's Old Train (1974) and Tony Rice's California Autumn (1975). He also released a solo album called That's It (1975). Toward the end of 1974, an offer came to join banjo player J.D. Crowe's New South. That Lexington, Kentucky, band enjoyed steady club work, often consisting of four sets per evening. The opportunity gave Ricky the chance to broaden his repertoire and also hone his skills as a master of ceremonies. With Crowe, Ricky participated in one of the landmark bluegrass albums of all time, the self-titled J.D. Crowe and the New South (1975). Familiarly known by its Rounder Records catalog number, "0044," it included guitarist Tony Rice, rising Dobro star Jerry Douglas, and long-time Crowe associate Bobby Slone on bass and fiddle. By now a veteran sideman in three top bands, Ricky was ready to make his own mark. In 1975, he collaborated with Jerry Douglas, banjoist Terry Baucom, and guitarist/lead singer Wes Golding to form the contemporary bluegrass band Boone Creek. They released two albums: Boone Creek (1977) and One Way Track (1978). In 1979, Emmylou Harris sought Ricky as a replacement for departing Rodney Crowell in her Hot Band. With Harris, Ricky gained working knowledge of a band with electric instruments. Straightaway, he was in the studio for her album Blue Kentucky Girl (1979). Subsequent projects included two acoustic/bluegrass-inflected albums: Light of the Stable (1979) and Roses in the Snow (1980). Ricky was responsible for adding several Stanley songs to Emmylou's repertoire, notably "The Darkest Hour Is Just before Dawn." While working in the Hot Band, Ricky released a solo project on the Sugar Hill label: Sweet Temptation (1979). A fusion of traditional country music with tinges of bluegrass, it attracted the attention of several Nashville producers and landed Skaggs a spot at Epic Records. Coupled with a year of maternity leave for Emmylou Harris, this opportunity led to the launch of Ricky's solo country career.
I didn't come to Nashville to sell records—I hoped I did—but it's really the joy of the music that keeps my heart interested in it. I feel that now that I'm sixty-two years old, gray-headed, and I'm looking back at my life, this is the most fruitful time I feel like I've ever had. I'm judging fruit as people I've influenced, not accolades from man.
Quoted by Brit Greenquist in "Ricky Skaggs: The Keeper of Bluegrass," www.tedxnashville.com, posted November 24, 2017
"I'm sixty-two years old, gray-headed, & I'm looking back at my life, this is the most fruitful time I feel like I've ever had. I'm judging fruit as people I've influenced, not accolades from man." #RickySkaggs 2017 #quote. #bluegrass
A string of singles and albums for Epic shot up the charts at the height of country's neotraditional movement, a radical departure from the pop-inflected styles of the late 1970s. The albums Waiting For the Sun to Shine (1981), Highways and Heartaches (1982), and Don't Cheat in Our Home Town (1983) contained chart-topping singles and enjoyed sales in the hundreds of thousands. Four of Ricky Skaggs' #1 singles came from bluegrass sources: "Crying My Heart Out Over You" (Flatt and Scruggs), "I Wouldn't Change You If I Could" (Jim Eanes), "Don't Cheat in Our Home Town" (Stanley Brothers), and "Uncle Pen" (Bill Monroe). With massive airplay and status as a concert headliner, Ricky received numerous awards and accolades. These included, from the Country Music Association: Horizon Award and Male Vocalist of the Year (1982), Instrumental Group of the Year (1982, 1983, 1985), and Entertainer of the Year (1985). Veteran producer Chet Atkins was said to have credited Ricky with single-handedly saving country music. By the middle 1990s, a host of younger new traditionalists had grabbed the spotlight. With nothing new to prove in the country field, Ricky made the bold move to return to his acoustic/bluegrass roots. He christened his new band Kentucky Thunder. Their first album, Bluegrass Rules! (1997), sold over 200,000 copies and proved that bluegrass was still a viable commercial product. International Bluegrass Music Association awards have since included Album of the Year (1998), Instrumental Group of the Year (1998, 1999, 2000, 2002, 2003, 2004, 2005, 2006), Recorded Event of the Year (2000, 2008), Instrumental Album of the Year (2000), and Gospel Recorded Performance (2012).
That was a homerun for me . . .I had a great opportunity to try to bring bluegrass to the mainstream marketplace of the music industry by doing the things that I did.
Quoted by Bill Conger in "Ricky Skaggs–Stays True to Himself with Music to My Ears," Bluegrass Unlimited, May 2013
In an effort to take more control over the production and promotion of his music, Ricky formed Skaggs Family Records in 1997. In addition to his own music, albums by Blue Highway, Cadillac Sky, the Cherryholmes, Mountain Heart, the Whites, and Del McCoury also appeared on the label. Ricky's gospel album, Soldier of the Cross (1999) garnered a Grammy for Best Southern, Country or Bluegrass Gospel Album. In all, Ricky has received 15 Grammys and 29 nominations. A recent career highlight was Ricky's acquisition of the Gibson Lloyd Loar F-5 mandolin that was once owned by Pee Wee Lambert, the high harmony singer who helped to create the early Stanley Brothers sound. In a sense, Ricky's music has come full circle. His 1996 deathbed promise to Bill Monroe was, "I will play this music as long as I live. Don't worry about it. It's in good hands."
– Reproduced from the Ricky Skaggs entry on the Hall of Fame Inductees page of the Bluegrass Music Hall of Fame & Museum website
Host Barbara Deeb interviews Ricky Skaggs for Kentucky Outlook on WKU-PBS (Western Kentucky University Public Broadcasting Service, 27 minutes).
Rare footage of Ralph Stanley & Clinch Mountain Boys (Ralph Stanley, banjo; Roy Lee Centers, guitar; Keith Whitley, guitar; Ricky Skaggs, mandolin; Curly Ray Cline, fiddle; & Jack Cook, bass) in June 1972. Keith Whitley and Ricky Skaggs, 17 and 18 years old at the time respectively, get the spotlight for the old Stanley Brothers number, 'We'll Be Sweethearts In Heaven' (from 11:15), which they cut for their 1971 debut Tribute To The Stanley Brothers. (21 minutes – Part 1 of 3 – click here for Part 2 (21 minutes) and Part 3 (14 minutes))
The Breakdown | Keith Whitley & Ricky Skaggs – Second Generation Bluegrass
Check out this December 2018 podcast from
The Breakdown
(52 minutes) when Ricky Skaggs explains how two teenagers attempted to replicate the bygone sound of the Stanley Brothers with their 1971 debut recording
Second Generation Bluegrass
, while also sharing his final moments with his dear friend and fellow teenage prodigy,
Keith Whitley
.