Rosine, KY | #BluegrassTrails
Part of the mygrassisblue.com #BluegrassTrails series, on the trail of bluegrass history and its pioneers/early protagonists.
N
ashville's
Ryman Auditorium
is venerated, and rightly so, but most would agree that it plays a distant… emm, second fiddle as a bluegrass pilgrimage site to
Rosine
in rural Ohio County, Kentucky, childhood hometown of The Father of Bluegrass
Bill Monroe
and location for the tranquil and brilliantly restored Old Homeplace in the captivating wooded hills of Pigeon Ridge. Rosine. It is
the definitive bluegrass music mecca
, and no mistake.
Pull up a chair, get comfy, and join the two Daves – Jnr & Snr – as they recount their September 2016 trip to the bluegrass bonanza of Rosine, and a whole lot more Bill Monroe besides.
Bill Monroe on His Way Back to the Old Home (5 minutes 42 seconds) |Bill Monroe spent his later years on his farm in Goodlettsville, Tennessee. It is said that Monroe attempted many times to buy his precious ancestral home, but with little success. Instead he settled for occasional pilgrimages back to the Old Homeplace. In this touching video (date unknown) we see Monroe exploring his tumble-down boyhood home with commentary, provided by the man himself, recalling those early days in the hills over Rosine. The dilapidated condition of the structure as seen in this video serves to highlight the accomplishment that was its complete restoration (according to the Bill Monroe Museum in Rosine, 'Bill walked among the ruins of the old Homeplace knowing plans for the restoration were in the works. He sat with a painter as they mixed colors to get just the right shade of green for the trim'). The last portion of the video sees Monroe being introduced to the crowd as the Father of Bluegrass Music (from 3:10) followed by a live performance of 'I'm On My Way Back to the Old Home' (from 3:30) from what looks to be the stage in Bean Blossom.
Beaver Dam, KY The staging point for our assault on Rosine was Beaver Dam, 10 miles from Rosine. Even here there are signs of what's to come.
Rosine & 'Monroe Country' We poked around the grounds, peered in the windows, and wondered if we'd manage to pass the time required. We did, of course. We weren't going anywhere.
The Monroe Homeplace has been called the most musical home in America. It is not only the birthplace of three famous musicians (Bill, Charlie & Birch Monroe), it is also the birthplace of the American musical form known today as bluegrass. After farm chores were done, the home was a magnet that drew local traditional musicians including Bill's legendary Uncle Pen. In the summer the music and dancing took place on the porch or in the yard. In the cooler months furniture was moved outside and square dances were held in the home. There has been so much music played in the home that the fibers of the wood actually changed in response to the vibrations. The end results is that the home has become a musical instrument itself.
– Reproduced from text on display in the peaceful grounds of the Old Homeplace.
We passed the time (in truth, it flew by) and eventually Jonell showed up with the key to the Aladdin's Cave of Bill Monroe and bluegrass memorabilia that is the interior of the Old Homeplace.
My Uncle Pen was one of Kentucky's old-time fiddlers, and he had the best shuffle with the bow that I'd ever seen, and kept the best time. That's one reason people asked him to play for the dances around Rosine, Kentucky. In his later years he was a crippled man. He had been thrown by a mule and had to use crutches the rest of his life. My last years in Kentucky were spent with him. He done the cooking for the two of us. We had fatback, sorghum molasses, and hoe cakes for breakfast, followed up with black-eyed peas with fatback, and cornbread and sorghum for dinner and supper. I can remember those days so very well. There were hard times and money was scarce, but also there were good times. If it was to do over, I'd live them again.
– Bill Monroe
Rosine, KY Away from the serene wooded hills of Pigeon Ridge and the Old Homeplace and in the sleepy settlement of Rosine itself (population less than 100) there are, of course, more bluegrass-related sights to see.
Since 1944, the Rosine Barn has functioned as a general store, post office, blacksmith shop, Louisville Slugger workshop, and bus depot among other things. Local musicians moved their weekly Friday night jam session to the Barn in 1992. Admission is free, musicians aren't paid and bags of popcorn cost $1.
– The Rosine Barn Jamboree's Facebook page.
Walk softly around this grave for my father Bill Monroe rests here as the blue moon of Kentucky shines on.
– James William Monroe, 1997, as inscribed on Bill Monroe's grave
He played for a lot of square dances in Kentucky…. There wasn't many musicians around and back in the early days I had to learn to play a guitar; he would let me go along with him to play guitar while he was playing the fiddle…. and we'd make from two dollars-and-a-half up to five – never over five dollars a night. So, I really have to give him a lot of credit for my playing and really, I guess, the roots of bluegrass.
– Bill Monroe
Suffice it to say, Bill Monroe was a member of the First Class of inductees into the International Bluegrass Music Hall of Fame when he was inducted 1991, along with a certain Earl Scruggs and Lester Flatt. So his plaque has been hanging in the hall a tad longer than most. Something tells us Bill liked the thought of that.
Bill Monroe | IBMA Hall of Fame Bio
I wanted a style of my own and that's what I finally came up with.
Bluegrass Touches – An Interview with Bill Monroe by Charles Wolfe, in Ewing, Tom, The Bill Monroe Reader, 2000.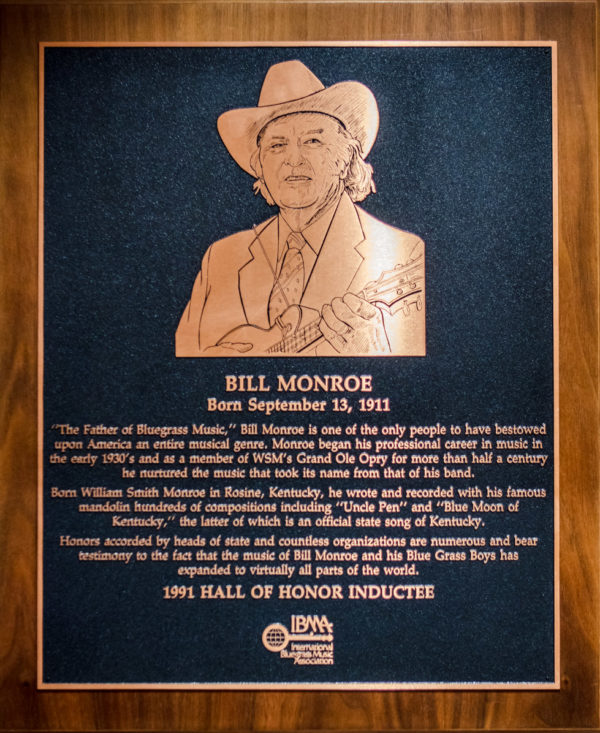 IBMA Hall of Fame Induction| 1991
Born | September 13, 1911 in Rosine, Kentucky
Died | September 09, 1996
Primary Instrument | Mandolin
Remembered as the "Father of Bluegrass Music," Bill Monroe is better understood as a master chef or chemist, blending earlier musical elements into an exciting new form. Bill often spoke of wanting to bring "ancient tones" into his sparklingly innovative music. These included fiddle and bagpipe sounds imported from the British Isles, African-American blues and holiness gospel, American Great Awakening hymnody, as well as hill country dance music and the thrilling new rhythms of hot jazz. His distinctive contribution was blending these influences with an equal measure of his own passionate soul and artistic inspiration to create and evolve what would become a genre of its own, named in honor of Monroe's band, the Blue Grass Boys. It can fairly be said that every bluegrass band on earth draws inspiration from the musical contributions of Bill Monroe.
Bill Monroe was the youngest of eight children born to a western Kentucky farm family in Rosine, Ohio County, not far from Owensboro. Suffering from crossed eyes that weren't corrected until his teens, the young man endured teasing and vision difficulties which haunted him for life.
There was three of us brothers to start with, that tried to play music and, of course, they was older than I was, and one of 'em – Birch – wanted to play the fiddle. Charlie loved the guitar… So I got the mandolin, I wound up with that.
– Bill Monroe: King of BlueGrass Music, interview with Doug Benson in Ewing, Tom, The Bill Monroe Reader, 2000.
The family loved music, and Bill proved an apt performer on mandolin, guitar, and vocals. He left school in the fifth grade, began work as a laborer at 11, and was orphaned at 17. Soon after, he joined older siblings in the Chicago area, where he found work in the oil industry. A few years later, he and brothers Charlie and Birch became exhibition square dancers for the WLS Barn Dance. Charlie and Bill left their day jobs in 1934 to form the Monroe Brothers, the hottest of the mandolin-guitar duets popular in that decade.
Radio, concerts, and recordings, mostly in the Carolinas, launched the duo to prominence with songs such as "What Would You Give in Exchange for Your Soul," "Drifting Too Far From the Shore," and "New River Train." The brothers quarreled and split in 1938. Bill decided to modernize and enlarge his musical vision with a larger string ensemble, which he eventually named the Blue Grass Boys in honor of his home state. In 1939, on the strength of his adaptation of Jimmie Rodgers' "Mule Skinner Blues," he was inducted to the Grand Ole Opry on WSM, Nashville, as a life member.
Over the next five decades, Bill Monroe led a band through which scores of talented musicians served their apprenticeship. Among Blue Grass Boys alumni who made their later mark in bluegrass, country, folk, and other genres were Clyde Moody, Howdy Forrester, Stringbean (David Akeman), Carl Story, Chubby Wise, Lester Flatt, Earl Scruggs, Benny Martin, Jim Eanes, Don Reno, Vassar Clements, Mac Wiseman, Jimmy Martin, Gordon Terry, Carter Stanley, Sonny Osborne, Bobby Hicks, Kenny Baker, Don Stover, Eddie Adcock, Dale Potter, Buddy Spicher, Del McCoury, Bill Keith, James Monroe (Bill's son), Peter Rowan, Richard Greene, Byron Berline, Doug Green, and Roland White.
The sound that came to be known as bluegrass wasn't born fully formed. It constantly evolved as Bill Monroe merged his creative inspirations with the talents that passed through his band. In the late 1930s and early 40s, the Blue Grass Boys played in a raggy, syncopated, and improvisatory style that evoked black string bands of an earlier era and the simultaneously emerging form of western swing. During this phase, the fiddle became the central voice of the instrumental ensemble, and high-pitched solos, duets, trios, and quartets provided a rich variety of vocal material.
With Earl Scruggs' entry into the Blue Grass Boys in 1945, bluegrass music first took on the classic five-piece ensemble for which it has ever since been recognized: plucked string bass, steel-string guitar, mandolin, fiddle, and banjo played in the three-finger style that Scruggs made wildly popular. During the three years that Bill Monroe, Lester Flatt, Earl Scruggs, Chubby Wise, and Howard Watts were together, their performances and Columbia recordings set a standard that have ever since been recognized as a high water mark for the form.
You know, I never wrote a tune in my life. All that music's in the air around you all the time. I was just the first one to reach up and pull it out.
– Bluegrass Touches – An Interview with Bill Monroe by Charles Wolfe, in Ewing, Tom, The Bill Monroe Reader, 2000.
After Flatt & Scruggs split off to form their own group, Bill Monroe took his sound in new directions. Autobiographical songs, faster tempos, a more dynamic instrumental attack, and eventually double and triple-fiddle arrangements characterized the great music the band made for Decca in the 1950s. In his fifties and a veteran performer, Bill Monroe wasn't content to rest on his laurels. As the folk music craze swept North America, the traditional roots embedded in his music brought it to the attention of new audiences in the colleges and urban centers outside the heartland of the Appalachian region and mid-south where bluegrass had flourished.
There are a lot of young bluegrass groups coming along now that are out of this world, boy. They can really sing the harmony and play the music… They're all over the country, and I like to hear them play.
– Bill Monroe interview by George Gruhn, in Ewing, Tom, The Bill Monroe Reader, 2000.
The 1970s and 1980s saw the proliferation of bluegrass festivals, labels, radio programs, and media. Bill Monroe was the recognized patriarch of an entire genre of music, which was by then spreading worldwide. In the final quarter century of his life, Bill Monroe received the recognition and approval of peers for which he had hungered as a child. The broader world of the arts and culture recognized Bill Monroe as one of the leading innovators and musical figures of the twentieth century. The "Father of Bluegrass Music" died a few days short of his 85th birthday after a series of health challenges, through which he continued to perform for appreciative audiences almost to the end.
– Reproduced from the Bill Monroe entry on the Hall of Fame Inductees page of the Bluegrass Music Hall of Fame & Museum website
Bill Monroe: Father of Bluegrass Music (1 hour, 31 minutes) | Essential viewing, Steve Gebhardt's 1993 TV movie Bill Monroe: Father of Bluegrass Music sees John Hartford chat to Bill Monroe about his early years and career. Features performances by Monroe & his Blue Grass Boys, Lester Flatt, Emmylou Harris, Paul McCartney, the Osborne Brothers, Dolly Parton, Ricky Skaggs, Marty Stuart, John Hartford, not to mention a once-in-a-lifetime Blue Grass Boys reunion. It also includes rare '90s performances from Monroe's final years including many of the greatest songs such as 'Uncle Pen' and 'Muleskinner Blues'.
The Life And Times Of (1 hour, including adverts) | This now defunct The Nashville Network (TNN) autobiography on Bill Monroe was produced as part of the TNN's 'The Life And Times Of -' series. Dated to the mid-1990s, it's grainy and only one audio channel is working, but it's as comprehensive as you might expect. The documentary includes input from Bill Monroe himself; fellow performers, among them Sonny Osborne, Tom Ewing, Mac Wiseman, John Hartford, Ricky Skaggs, Emmylou Harris, and Chubby Wise; family members, including son James Monroe and Bertha Monroe, one of Monroe's 2 sisters; and noted music historian Neil V. Rosenberg.
Tribute – Backstage at the Grand Ole Opry (57 minutes, 40 seconds) |This Backstage at the Grand Ole Opry episode was recorded as a tribute to Bill Monroe on Saturday September 14 1996, five days after his passing. The first half of the video is another autobiographical look at his life and legacy with input from, among others, Ricky Skaggs and Vince Gill. Of all the tributes paid to Monroe, it's probably host Bill Anderson's words that are most touching (from 25:16). The second half of the video (from 29:00) is a 'Grand Ole Opry Live' segment emceed by Ricky Skaggs and featuring his band Kentucky Thunder and with contributions from Larry Stephenson, Vince Gill and the then Blue Grass Boys, the very last Blue Grass Boys ensemble. The tribute ends with all mucking in on a rousing rendition of 'Blue Moon of Kentucky' (from 54.45). (57 minutes 40 seconds)
There is no shortage of Bill Monroe footage out there – interviews, performances, biographies etc. He's a selection of a few we like.
TNN's Nashville Now (6 minutes 6 seconds) | A real nugget, this footage, VHS capture of a now defunct The Nashville Network's Nashville Now programme from the 1980s, sees Bill Monroe recounting to host Ralph Emery the story of the acquisition of his famous 1923 F5 Gibson Lloyd Loar mandolin (serial number 73987), purchased for $150 from a Florida barber shop in the early 1940s. Now safely residing behind glass in the Country Music Hall of Fame in Nashville, the clip also details the repair of the mandolin by Gibson after it was damaged.
WHAS-TV Louisville Tonight (8 minutes 48 seconds) | A Bill Monroe profile produced by WHAS-TV in Louisville, Kentucky, for their 'Louisville Tonight' segment. Steve Sweitzer, who uploaded the video, elaborates: 'Anyone who is a fan of Bluegrass will enjoy this profile of the father of Bluegrass. One of the highlights of shooting this story was visiting Bill's childhood home – abandoned but still standing, and seeing Uncle Penn's cabin. I'll never forget the day Bill Monroe's bus pulled up to WHAS's front door and Bill and the band came to the conference room to see this and some of the pieces we'd done on his Bean Blossom Bluegrass Festival. In the early 80's I worked as a photographer and later, as a producer for Louisville Tonight at WHAS-TV in Louisville, Kentucky.'
Backstage at the Grand Ole Opry (8 minutes 50 seconds) | Not one but two (whispering) Bills. Bill Monroe with his Blue Grass Boys featured on Backstage at the Grand Ole Opry on an Opry Saturday night. Asking the questions is a young-looking Bill Anderson. Includes an awesome backstage performance of Kenny Baker's fiddle instrumental 'Road To Columbus' (from 2:11) and 'My Florida Sunshine' from the Opry stage (from 6:25).
The Weekly Special, 1986 (7 minutes 17 seconds) | 'A treasure trove of Bill Monroe video that has never been seen before… anywhere' is how this video is introduced. It features footage (and insights) from 1986 of Monroe on his Tennessee farm and from the 21st Bean Blossom festival, including a few words from festival performers Sharon White and Doug Dillard.
Bobby Bare Interview, 1984 – Part 1 (6 minutes 27 seconds) | Bill Monroe interviewed by country star Bobby Bare in 1984. Click here for Part 2.
A Mandolin and a High Tenor Voice: Bill Monroe (6 minutes 7 seconds) | Focusing on the formation of the Bean Blossom Festival in Indiana, this video is an informative look at the timeline of events that transpired following Monroe's 1929 departure from Rosine as an 18 year and his career path from there through to the formation of the very first Bean Blossom Festival in June 1967.
Tros Televisie, 1996 (9 minutes 29 seconds) | A portion of a show exploring the the origins of country and bluegrass music produced by for Dutch TV and initially broadcast in 1996, it features footage of Bill Monroe talking about, among other things, his upbringing, his musical family, Elvis cutting 'Blue Moon of Kentucky', and the purchase of his mandolin from a Florida barbershop in 1942.
Bill Monroe Stories
Just for laughs is all! In 2014 Ricky Skaggs assembled in one room a crack squad of bluegrass behemoths for a recording of Country's Family Reunion's 'Simply Bluegrass', available today as a 4 DVD/episode boxset (well recommended). Some of those present, including Ricky himself, Bobby Osborne, Doyle Lawson, Ronnie Reno, Del McCoury, and Larry Cordle, share humorous Bill Monroe tales from the past some of which have thankfully found their way to YouTube (although evidently, parts 1 and 2 have gone AWOL).
Part 3 (of 7) (4 minutes 58 seconds) | A Ryman Bluegrass Night performance with Bill Monroe, Earl Scruggs, Benny Martin, Ricky Skaggs, and Roy Huskey Jnr. (Ricky Skaggs); 'There's only one Bill in this outfit'; and 'I play around that' (Del McCoury)
Part 4 (of 7) (4 minutes) | 'It's like a different country over there' (Doyle Lawson); NYC donuts (Ricky Skaggs); and 'Well it ain't the mandolin!' (Bobby Osborne)
There's a few stories in this room.
– Bill Anderson, Country's Family Reunion's 'Simply Bluegrass'
Part 5 (of 7) (5 minutes 41 seconds) | 'Right there's your problem' (Ronnie Reno); 'He's ruined every fiddle player in this town' (Bobby Osborne), Turkey in the Straw (Ricky Skaggs); and 'you have a pillow?' (Doyle Lawson)
Part 6 (of 7) (5 minutes 19 seconds) | 'Jimmy Martin don't even believe in Santa Claus' (Ricky Skaggs); 'It must be hard… I can't do it' (Ronnie Reno); Girlfriends (Bobby Osborne); and 'I never heard it sung that way before' (Del McCoury)
Part 7 (of 7) (2 minutes 11 seconds) | The Flat Black Hat (Larry Cordle)
Surprisingly given his stature as the Father of Bluegrass, there is
no official Bill Monroe home on the internet
. There isn't even a unofficial fan site. None that we could find, that is (and we're good with the Googles). Here's a smattering of Bill Monroe-related URLs that are worth a peruse, were you up for absorbing more Big Mon.
The Bill Monroe Foundation
Campbell Mercer's Bill Monroe Foundation is the non-profit organisation responsible for the restoration and operation of the Old Homeplace as well as the overseers and promoters of the Jerusalem Ridge Bluegrass Celebration/Festival, all in the commendable name of preserving the source and heritage of the original All-American art form that was born in the hills over Rosine. Numerous disputes with local landowners, Kentucky's Ohio County (who officially own the five-acre Monroe Homeplace), and Bill Monroe's son James, over the proposed $1.2 million purchase of Monroe's famous Gibson F-5 Lloyd Loar mandolin and Bill Monroe naming rights, the latter resulting in a lawsuit which the foundation ultimately won, means the organisation seems to have had a stressful time of it since its inception. While the foundation doesn't seem to have a website (they are probably too busy fighting fires), they are active on Facebook.
The Jerusalem Ridge Bluegrass Celebration/Festival
The website for the Bill Monroe Foundation's
Jerusalem Ridge Bluegrass Celebration/Festival
isn't going to win any fresh content awards – as we type, it hasn't been subjected to an edit in over three years, July 2017, and only then to confirm the bad news of there being no festival for September of that year. That said, you may still consider dropping by for some history on Bill Monroe and the festival, with a few pictures posted from past gatherings. Oh,
they are on Facebook
, too (and that is updated regularly).
The Bill Monroe Museum
We were somewhat surprised that there wasn't one already in existence, a museum dedicated entirely to the life and legacy of Bill Monroe and the early foundations of bluegrass music, but they were working on putting that right when we were in town (September 2016), soliciting donations or enticing patrons to 'Buy A Brick!' for the building's Blue Moon Walkway to help with costs. A project of Ohio County and the Ohio County Tourism Commission, the museum has since opened (in April of 2018) and we're looking forward to getting back to Rosine again some day to check it out. In the meantime we'll continue to pay visits to their
website
and
Facebook
page.
In the heart of Rosine, KY, the Bill Monroe Museum serves as the home to the complete legacy of Bill Monroe and pays homage to his life and career. Rosine, Jerusalem Ridge, and the Bill Monroe Museum are the must-see sights of Bluegrass music!
– www.billmonroemuseum.com
Bluegrass Today's 'I'm I'm Going Back To Old Kentucky'
This was quite the undertaking. For 365 days straight – from October 1, 2010 through September 30, 2011 – Richard Thompson of
Bluegrass Today
undertook the research of the life of Bill Monroe and presented it in a chronological series of posts detailing 'births and deaths; recording sessions; single, LP and CD release dates; and other interesting tidbits.' It makes for some good reading, and lots of it too. You can check out
the first post from October 1
(World Bluegrass Day), 2010, and take it from there. (Tip: change the number in the URL — from 1 to 2 to 3 to 4 etc. — to progress, or enter any number between 1 and 364 for potluck – 348 and 344 will take you to the days Monroe was born and died respectively).
Monroe was an extraordinary man; some elevate him to an even higher status. Hype aside, he was very strong, physically and mentally, but he had his weaknesses, both physical and mental. He immersed himself in his music; did he really pluck notes – those ancient tones – from out of the air? Notes that he heard in the wind as it blew around his little cabin home or in the pines? Slowly Monroe graduated from being a steadfast pioneer to someone who Ralph Rinzler describes as a "mellow patriarch." He never ceased to be innovative with his music, as his recording catalog indicates, and he began to wear the mantle of the 'Father of Bluegrass Music' easier as each year passed. His legacy, both his personal and that which has evolved through the music of the many bluegrass musicians that were influenced, directly or indirectly, by him, is enjoyed worldwide. Bill Monroe has gone but his music lives on.
– Richard Thompson, Bluegrass Today's 'I'm Going Back To Old Kentucky #344', September 9, 2011
The Complete Rosine, KY, Gallery