Adams & Staats | Ireland 2019
Days 1-3

Gig 3 | Village Arts Centre, Kilworth, Co. Cork. October 14, 2019.
Highlighting our Adams & Staats October 2019 nationwide tour of Ireland 🇮🇪 | PART 1 of 3 | #AdamsandStaatsIreland2019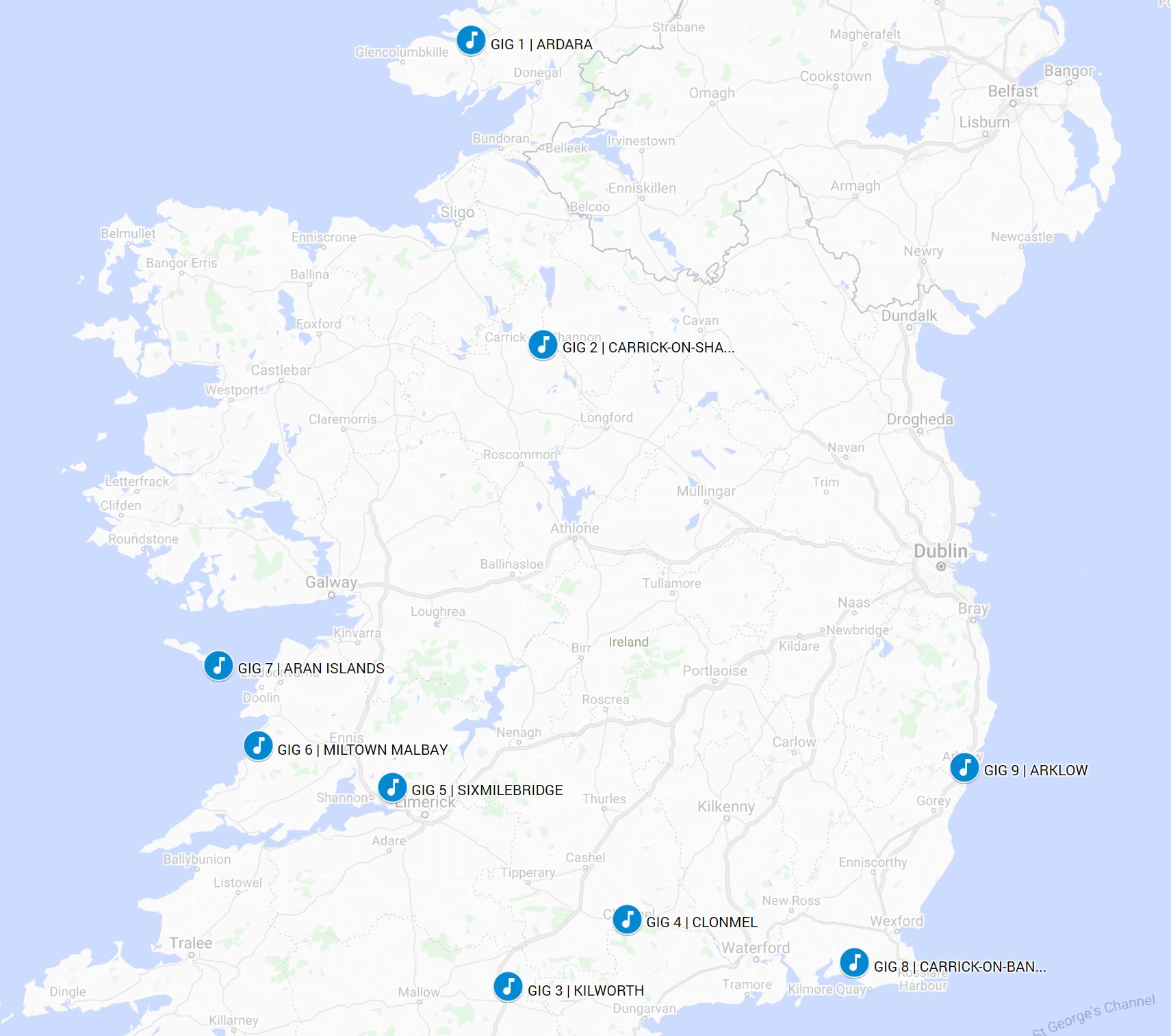 #AdamsandStaatsIreland2019 | Tour Map
#AdamsandStaatsIreland2019 | Days 1-3
LOTS of ground covered. From the airport to UPS to Northern Ireland's Causeway Coast to rural Donegal to sleepy Cork. A puncture, a missed radio interview, the first three GIGs, and the first three post-gig jams. It's our media-heavy recap of days 1-3 of #AdamsandStaatsIreland2019, our 2019 9-gig nationwide tour of Ireland 🇮🇪 by flatpicking guitarist Brandon Lee Adams and mandolin maestro Johnny Staats.
T
his was
a busy tour
, even before it started, before a tour string was strummed in earnest. Within minutes of landing, the 'Mandolin-playing UPS driver' was entertaining his Irish colleagues in a Dublin
UPS
depot (
1
), a start to their day unlike any other. It was then tourist time, including some
Game of Thrones
location scouting, up north on the
Causeway Coast
(
2
&
3
), a spectacular UNESCO-listed area of global geological importance and one of the world's premier road-trippin' destinations (so says Discover Northern Ireland). We were scheduled for
Shannonside FM
studio time with
Charlie McGettigan
,
Eurovision Song Contest winner for Ireland in 1994
, on the morning of the first official day of the tour, October 12, but a
puncture
on the tight roads of Northern Ireland (
4
) en route to the studio scuppered that plan. But every cloud has a silver lining so, and in what was to prove to be the latest in a string of indelible tour memories, locals came to the rescue and the dynamic duo found themselves in a kitchen-cum-living room listening to Charlie lamenting their misfortune over the airwaves to his audience while jamming with their squeezebox-playing host (
5
). The boys eventually caught up with Charlie as they arrived at Shannonside FM, and as he was leaving, rendezvous enough to joke about the morning that was, for a CD swap out of the back of Charlie's car, for a picture (
6
), for a handshake, and for an agreement that we'll reschedule the interview for 'next time'. It was then back on the road for Ardara, Co. Donegal, for gig 1. Busy indeed. There was no letup. GIG 1
THE BEEHIVE BAR, ARDARA, COunty DONEGAL
GIG
1 Venue Low-down
|
Established in 1858 and with a clientele that has included, among others, Dylan Thomas and Brendan Behan,
The Beehive Bar
has been a hub for top quality traditional Irish music in the Donegal Heritage town of Ardara since 1993, when Pat McGill, proprietor and bluegrass fan, decided to return home from the US and become a bar owner. The bar, with its cosy rear live music venue, is now
a firm favourite on the Irish bluegrass scene
with both local and visiting artists alike, not to mention a hub for the annual
Ardara Bluegrass Festival
when, for a July weekend every year, banjos and mandolins rule the roost over the Irish tin whistle and Uilleann pipes.
'You never know who might pop their head in the door. Ardara is just one of those places,' says Pat.
True that. The late John Prine was a 'local' (his wife is from Ardara) and on this particular night 6-time Academy Award nominated Irish playwright, screenwriter, film director, and film producer Jim Sheridian was in the audience enjoying the first Adams & Staats gig of the tour just like everyone else.
There were many firsts about tonight's gig: it was the first gig of the tour; it was our first time hearing the guys live (we're fans as well as promoters, obviously); and, incredulously, it was the first time Brandon and Johnny had played a gig together, not that one could tell. Commenting on the Bluegrass Ireland Blog following the gig, we noted:
'The first gig was special – they truly are phenomenal musicians and it's a pleasure to not only facilitate their tour but also to be around them… Seeing them play, it's really hard to believe that before last night they had never – NEVER – before played a gig together.'
There was plenty of video captured throughout the tour (read on), but for now here's a teaser of what's to come as Brandon & Johnny close out gig 1 with a rendition of the Bill Monroe instrumental 'Roanoke' (01:08). GIG 2
CRYAN'S TEACH CEOIL, CARRICK-ON-SHANNON, COUNTY LEITRIM
GIG 2 Venue Low-down | Cryan's Teach Ceoil in the charming Shannon River inland resort town of Carrick-on-Shannon is another well-established live music venue – 'Teach Ceoil' is Irish (Gaeilge) for music house.
Cryan's, regionally renowned for its Monday night bluegrass sessions, also draws the crowds for its long-running and popular Sunday evening traditional Irish music throwdown. Gig 2 was a Sunday afternoon gig, meaning the guys were free to partake in the evening jam, and partake they did (it was all part of our cunning plan). Two days in and Johnny's enthusiasm in particular was fast becoming infectious.
Was at the Carrick gig. Brilliant. Had a great jam with Johnny Staats after his show ended. He then joined a session of traditional music – what a player. Have never heard a better mandolin player and have seen Sam Bush and Ricky Scaggs amongst others ! Big coup for mygrassisblue.com to bring Johnny and Brandon over here!!
– Fergal Woods, mygrassisblue.com Facebook page comment, October 13, 2019 GIG 3
THE VILLAGE ARTS CENTRE, KILWORTH, COUNTY CORK
GIG 3 Venue Low-down | An artist favourite, The Village Arts Centre in the sleepy County Cork village of Kilworth was the only former church venue to feature on the tour's itinerary. Formally opened as a performance space in June 1995 by the then president of Ireland, the 100-seat venue has since hosted a bevy of both professional and amateur talent from all over the world, artistes who invariably praise the centre's acoustics; so good are the acoustics that it has been used as a recording facility. Another constant on the Irish bluegrass circuit, it would be rare to encounter an overseas grasser who has toured Ireland and who has not graced the Kilworth stage.
The boys were nicely warmed up by the time they got to Kilworth. We captured quite a bit of the gig on camera. Brace yourself.
Intro & 'Baby Why You Been Gone So Long' (05:24) | A little bit of background about how the tour came about (Brandon touches on the reverence with which Johnny Staats is held) before a rendition of the old Mickey Newbury song, covered by The Byrds, among others, 'Baby Why You Been Gone So Long'. 
'Big Mon' (02:33) | We like this. There's a grainy video on YouTube dating to 2007 of Johnny, accompanied by guitarist Robert Shafer, blazin' through this Bill Monroe classic. And we mean blazin'! The upload was entitled 'Fast fingers' and it spawned a June 2008 Mandolin Café thread in which the poster stated (or asked, minus the question mark) 'The fastest "big mon" you've ever heard!'. While some bemoan the ridiculously fast tempo ('playing a tune faster than it needs to be played ruins the tune' according to one commentator), comments on the thread range from 'pretty impressive from a purely technical point of view' to 'jaw dropping speed' to praise for 'the "cleanliness" of Johnny's playing at that speed' and the enviable 'taste and style' evident in his playing. Johnny is 12 years older now and maybe time has slowed his right hand a tad; we're pretty sure this rendition is a notch – maybe two notches – below that 2007-level breakneck speed, but we're beating it's probably just as artistically perfect.
'Nine Pound Hammer' feat. John Nyhan (03:14) | Bluegrass in Ireland owes a monumental debt of gratitude to John Nyhan, a Cork-based musician who has been tirelessly promoting the genre in Ireland for over four decades. John took the stage with Brandon and Johnny for a rendition of the bluegrass standard 'Nine Pound Hammer', much to everyone's delight.
'Amazing Grace' & 'Angeling the Baker' (08:41) | The video quality is not what it should be but thankfully the audio stands up throughout this take on 'Amazing Grace' with a segue into the popular fiddle or banjo tune 'Angeline the Baker'. We heard this a few times over the course of the tour but feel this Kilworth performance was the best of the lot. Those Kilworth acoustics no doubt. Enjoy.
What a fabulous night of music.. Such talent… Hope we see them back in Ireland again….
– Joan O'Rahilly
A few bluegrass standard fiddle tune instrumentals to finsish, 'Cherokee Shuffle' and the Bill Monroe-penned 'Jerusalem Ridge'.
HOLD UP! THERE'S MORE. CONTINUE FOLLOWING THE TOUR