Adams & Staats | Ireland 2019
Days 4-6

Day 5 | Collaboration with Ger O'Donnell, Cratloe, Co. Clare. October 16, 2019.
Highlighting our Adams & Staats October 2019 nationwide tour of Ireland 🇮🇪 | PART 2 of 3 | #AdamsandStaatsIreland2019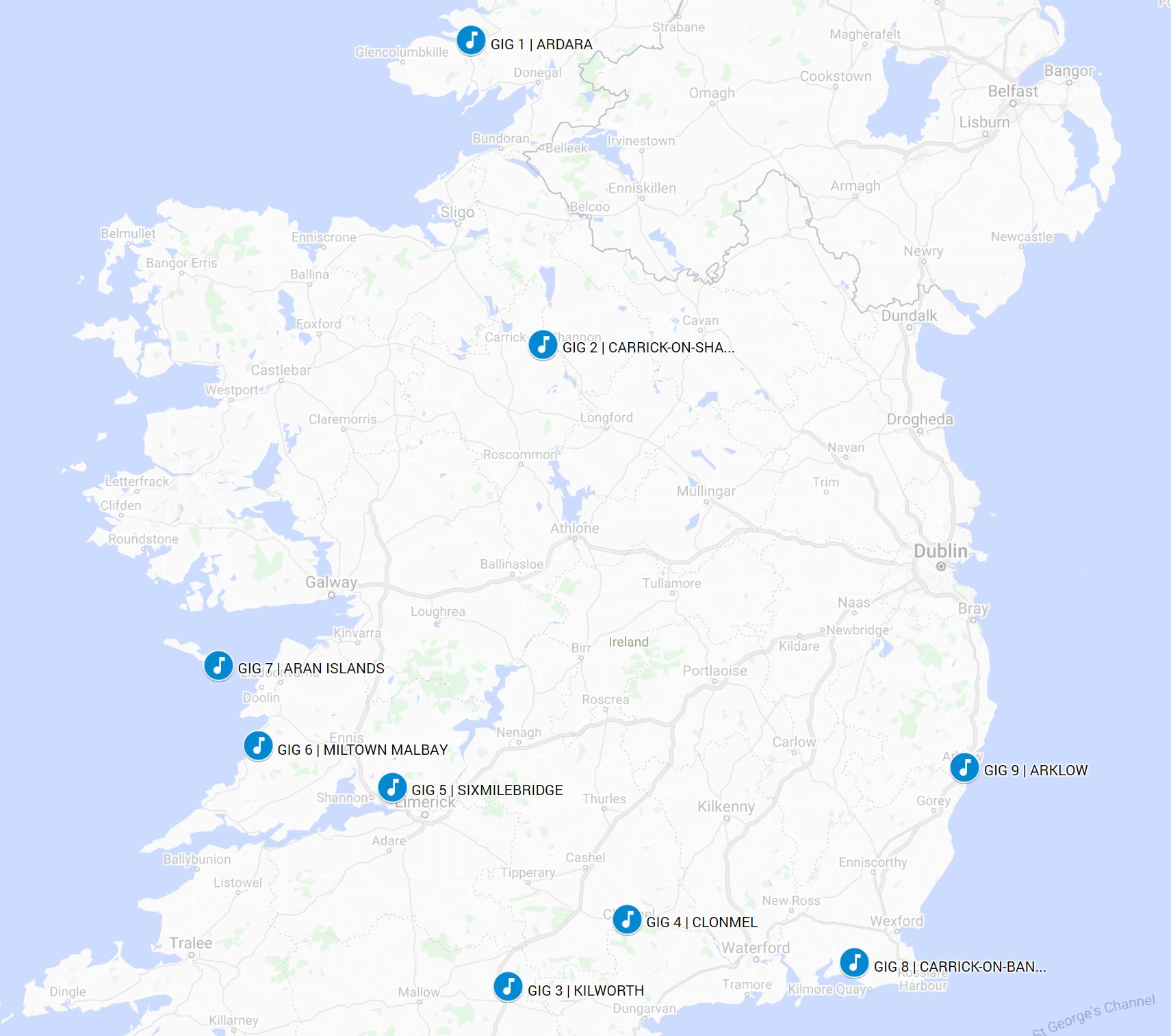 #AdamsandStaatsIreland2019 | Tour Map
#AdamsandStaatsIreland2019 | Days 4-6
Three more gigs, musical firsts, and memorial musical collaborations en route to some memorable west coast scenery. It's our media-heavy recap of days 4-6 of #AdamsandStaatsIreland2019, our 2019 9-gig nationwide tour of Ireland 🇮🇪 by flatpicking guitarist Brandon Lee Adams and mandolin maestro Johnny Staats. GIG 4
THE COACHMAN, CLONMEL, COunty TIPPERARY
GIG 4 Venue Low-down | A staple on Clonmel's Parnell Street, The Coachman is more than just a prototypical cozy hardwood paneled Irish pub. It's also a live entertainment hub that boasts three bars and two function rooms, one of which, the rear Slievenamon Room, plays host to monthly gigs by travelling artists as guests of Clonmel Folk Club.
We do love this. Johnny, always up for the authentic expereince, went prowling the streets of Clonmel before Gig 4 and look what he found. Irish set dancing, a popular form of folk dancing comprising 4 couples (a 'set'). GIG 5
O'Gliasain's Venue/The Greyhound Bar, Sixmilebridge, COUNTY Clare
D
ay 5 was musical collaboration day.
Ger O'Donnell is a local singer, songwriter, multi-instrumentalist, teacher, producer and arranger, mostly in the folk genre. His extensive musical journey, stretching back to the 1980s, has led him to develop a unique instrumental style. This coupled with his willingness to experiment with acoustic music, record it, and get it out there, has seen him build up a rather impressive portfolio of collaborative work with a wide array of artists spread across a wide array of genres. Aware of Ger's collaborative projects to date, we were keen to get Brandon and Johnny in a room with him, a few stringed instruments, and a few cameras. The creative juices flowed and music was made.
I can't put into words how amazing these 2 guys are. The way they play is hard to believe and the lists of superstars that they've shared stages with is beyond impressive. A huge honour to share a song with them!
– Ger O'Donnell
'The Wayfaring Stranger' (05:27) | We heard the well-known early 19th century American folk and gospel song 'The Wayfaring Stranger', about a plaintive soul on the journey through life, a few times throughout the tour, but it never sounded this good.
'A Song for Mark & Sherry' (02:56) | A solemn instrumental, 'A Song for Mark & Sherry' was written by Johnny Staats and dedicated to two of his cousins who passed away in tragic circumstances. Bass on this recording is provided by Ger O'Donnell via a nameless hybrid that demonstrates his penchant for not only creating music but also musical instruments.
I think you could travel the length and breadth of the world and not find a more proficient and musical mandolinist. Johnny Staats is incredible & also writes some amazing music. It was great to be part of this recording with him & Brandon Lee Adams.
– Ger O'Donnell
GIG 5 Venue Low-down | A small town in County Clare, Sixmilebridge co-hosts the Annual Shannonside Winter Music Festival with neighbouring Bunratty. So the town is no stranger to live music, its bars-cum-live music venues, including O'Gliasain's Venue/The Greyhound Bar, no stranger to acoustic, folk and bluegrass music in particular. GIG 6
Tom Malone's Pub & Market House, Miltown Malbay, County Clare
Five days in and we were edging closer and closer to the wave-lashed Atlantic west coast. On day 6 we arrived.
GIG 6 Venue Low-down | Tom Malone's Pub & Market House on the main street of coastal Miltown Malbay, County Clare, is trying to resurrect its musical past, to restore its status as a popular live music venue – Willie Clancy (1918-1973), the famous Irish uilleann piper, flute player and whistle player, was born in the town and was a regular fixture at the revered Irish music sessions that would take place in the original Tom Malone's Pub. Closed for some time, completed renovated in 2002 and recently under new management, the new leaseholders Susan and Brian Flynn are aiming to revive the musical past by providing 'the perfect lineup for music aficionados who prefer to "experience" live music and interact with artists performing a diverse range of acts, spanning genres'. All of this means the cozy bar with a unique acoustic sound is once again hosting an eclectic range of regular music sessions.
HOLD UP! THERE'S MORE. CONTINUE FOLLOWING THE TOUR