Adams & Staats | Ireland 2019
Days 7-9

Gig 7 | Áras Éanna, Inisheer, Aran Islands, Co. Galway. October 18, 2019.
Highlighting our Adams & Staats October 2019 nationwide tour of Ireland 🇮🇪 | PART 3 of 3 | #AdamsandStaatsIreland2019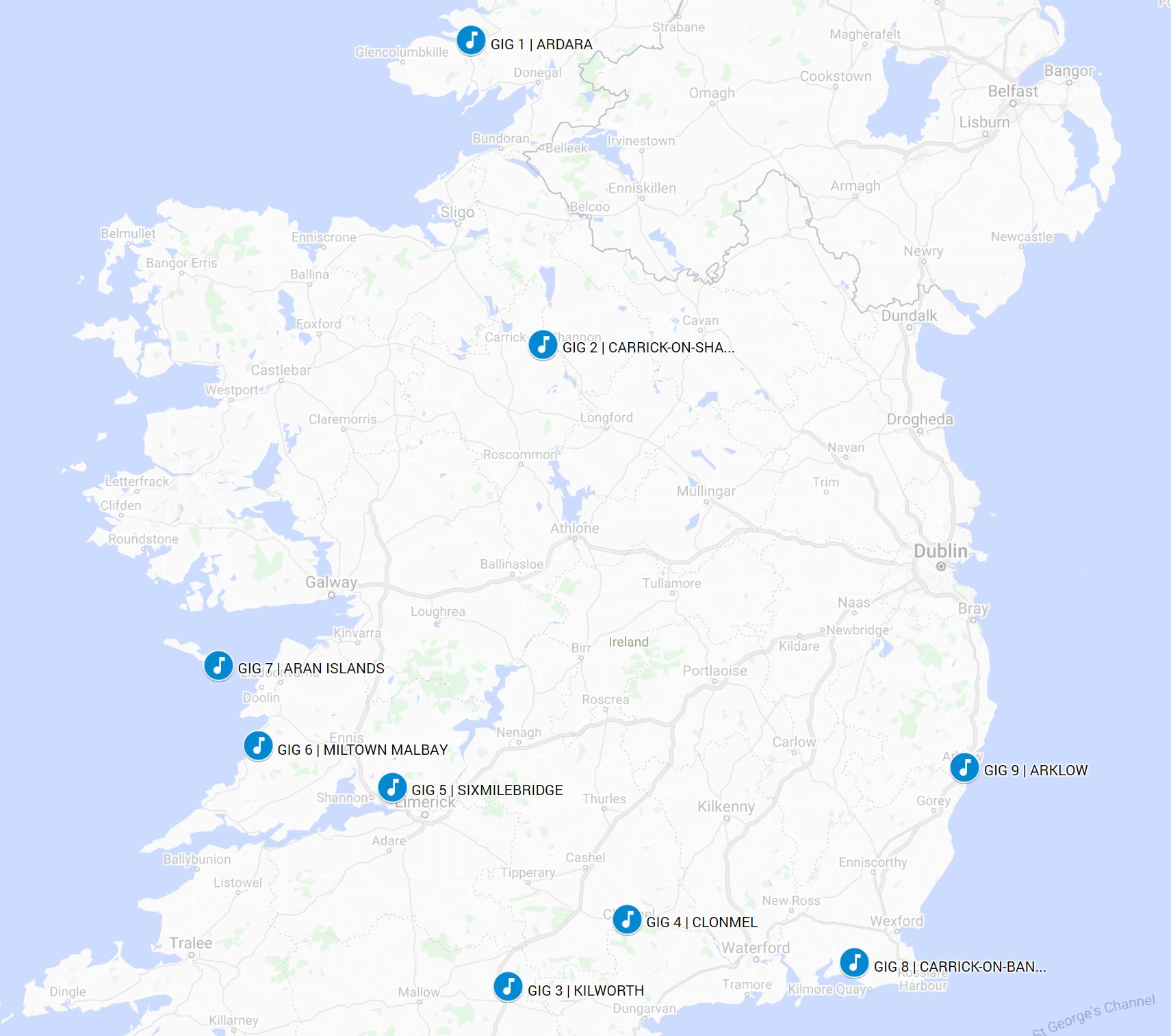 #AdamsandStaatsIreland2019 | Tour Map
#AdamsandStaatsIreland2019 | Days 7-9
From one side of the country to the other. And the last three GIGs, one on an island off the west coast, the final two on the east coast. It's our media-heavy recap of days 7-9 of #AdamsandStaatsIreland2019, our 2019 9-gig nationwide tour of Ireland 🇮🇪 by flatpicking guitarist Brandon Lee Adams and mandolin maestro Johnny Staats. GIG 7
Áras Éanna, Inisheer, Aran Islands, CO. Galway
It was a short early morning drive to Doolin in County Clare for the ferry from the mainland to Inisheer, one of the three Aran Island located in Galway Bay off the Atlantic Irish West Coast. Small, remote and picturesque, this was the somewhat unique location for tour gig 7.
One of the world's top island destinations.
– National Geographic
The Aran Islands & Inisheer
Three small islands in Galway Bay, three rocky limestone outcrops measuring a combined 46 km² (18 sq mi), the
Aran Islands
have been dubbed
the true Irish experience
. A region steeped in history, the islands are renowned for their preservation and presentation of the Ireland of yesteryear; prehistoric, medieval and ecclesiastical ruins and world-renowned UNESCO-listed stone forts testify to the island's strong connection to the region's ancient Celtic and Christian heritage. History, culture, wild landscapes, Irish-speaking locals and the wonderfully warm and welcoming Atlantic spirit. The true Irish experience indeed.
Small it may be, but on the bastion of traditional language, culture, music and history that is the Aran Islands, it's bite-sized Inisheer that lays claim to
Áras Éanna
, the island's arts centre, location for gig 7 and the most westerly arts centre on the continent of Europe.
GIG
7 Venue Low-down
|
Founded in 2000 and occupying what was once the island's weaving factory, today
Áras Éanna
,
Europe's most westerly Arts Centre
, is a multi functioning arts space that includes an artists studio space, a 75 seat theatre, two galleries, a café and various rooms and spaces for workshops and classes. A verdant supporter of the arts, we were delighted to present a bluegrass act at the venue. Here's hoping it won't be the last.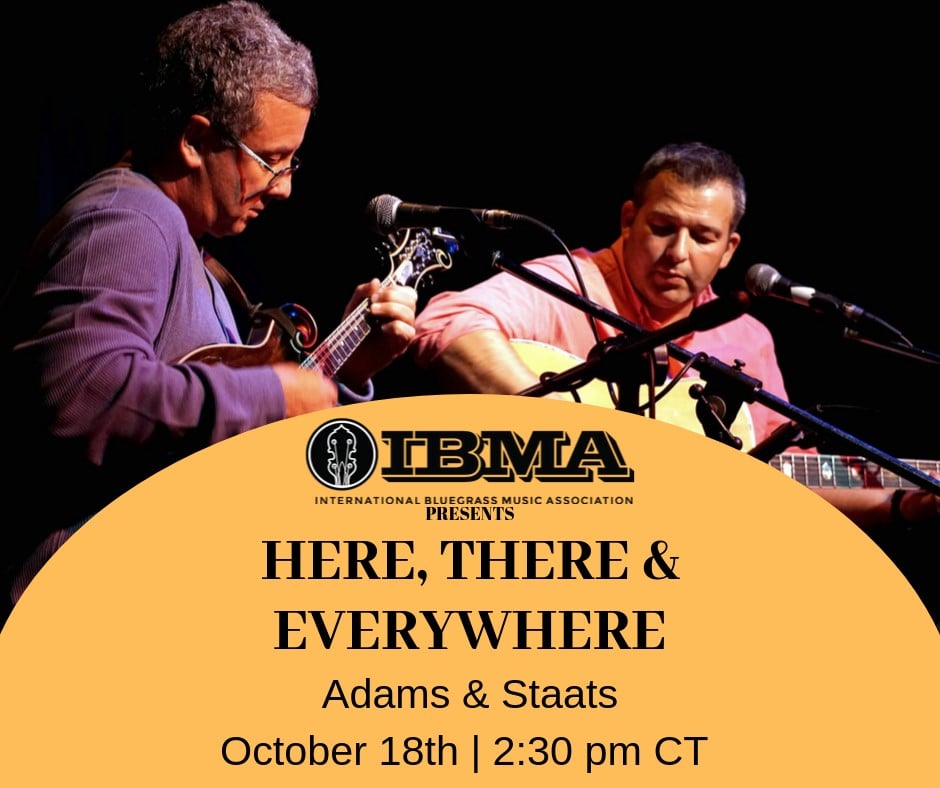 GIG 7 from Áras Éanna was broadcast live on the IBMA's facebook Page. You can review the gig here. Thank you to all at IBMA for the support. (1 hour 22 minutes)
The Islands of Saints and Scholars.
– aranislands.ie
A few parting shots from our time on Inisheer. GIG 8
Colfer's Pub, CARRICK-ON-Bannow, COUNTY Wexford
GIG 8 Venue Low-down | Colfer's Pub is yet another stalwart on the travelling bluegrass musician's circuit.
'Old Joe Clarke' (04:29) | Take it away, Mr Staats. Johnny takes flight with an explosive 4-plus-minute rendition of the old traditional fiddle tune 'Old Joe Clarke'. (04:29) GIG 9
THE ASGARD THEATRE, ARKLOW, COUNTY WICKLOW
GIG 9 Venue Low-down | The Asgard Theatre is only in operation six months (it officially opened on May 4, 2019) but the new intimate black box theatre is already gaining a reputation as a performance venue of choice for artists and patrons alike. Johnny and Brandon loved the venue, the perfect stage upon which to end the tour.
'Aleyas Shuffle' (02:16) | A Staats originals, a tribute to Lee Chapman of Johnny's home state of West Virginia, luthier and crafter of Johnny's Aleyas mandolin.
'Old Joe Clarke' (04:00) | Because sometimes you just can't get enough. Another rendition of the old traditional fiddle tune 'Old Joe Clarke'.
'Angeling the Baker' (04:16) | Another take on the popular fiddle or banjo tune 'Angeline the Baker', this time to close out the gig… and the tour.
HOLD UP! THERE'S MORE. RECAP THE REST OF THE TOUR